Affordable SEO Cheap Packages
Getting the most appropriate and affordable package seems to be very difficult in this competitive online market. We provide different SEO packages so that you can pick the best SEO package that suits the needs of Start-Ups, Small Businesses and Mid-size Enterprises. PETSAAL TECHNOLOGIES offers transparent SEO pricing that is based on a cost-effective strategy. We'll work with you to ascertain the goals you've got for your business; therefore, we can achieve them when you pick our SEO package.
We have made it very easy for you to get high exceptional services at very flexible rates. At PETSAAL TECHNOLOGIES, we completely understand the importance of powerful keyword research, the greatest SEO Audit, strong backlink, and result-oriented services. We offer the best monthly SEO Packages that include both SEO Basic and SEO Advanced Plan. Pay for performance-based pricing and plans that are uniquely tailored to your business.
Our affordable SEO cheap packages are just a small fraction of the return on investment (ROI). SEO is a technical field of online marketing. SEO requires a constantly-changing learning curve. Hence, it is often in the best interest of a business to engage or hire an SEO company. This will help the company to remain visible in SERPs and increase organic traffic and leads. SEO is a reasonably complex marketing tactic. We take on the hard work of building your brand's trust and authority online digitally. SEO packages are a strategic help industry-wise businesses gain better Google SERP.
Things we do in our SEO packages
Guaranteed Top Rankings
Keyword movement month-over-month
ROI-Driven SEO pricing packages
Absolute adherence to Google Webmaster Guidelines
Monthly SEO packages
Dedicated SEO project manager for prompt support
Organic traffic analysis of your website
100% transparency – you will know what we are doing
Keywords Research
On-Page Optimization
Off-page Optimization
Website Optimization
Analysis & Audit
Natural Links
Promotions/Branding
Social Media Optimization
Content Optimization
Google Analytics & Webmaster Setup
Website Recommendations
Blog Post & Links
Brand Awareness
Duplicate Content Audit
Advanced SEO
Creating Landing Pages
Improvement Guaranteed
Monthly Ranking Report
Affordable SEO cheap packages benefits
Trust and authority
Our SEO strategies ensure that your content and website appear in maximum searches of Google aligned to your business. Around 80% of users don't explore a website that is on the 2nd page of Google search engine, users know that the website on the first page is the reliable and trustworthy business websites. Ranking on the first page of high volume keywords eases down your task to convert leads into sale deals. Our SEO plan helps your business to get ranking on the first page of Google search engine.
User experience
User experience depends on your website, how you are serving your content, information, products and services to the targeted audiences. The website should be easy to navigate, text with some supporting images to make it easy to understand to the user and mobile friendly.
Quality traffic
Ranking on the first page of search engines, get the attention of the targeted audience and potential buyers. At PETSAAL TECHNOLOGIES, we post fresh, unique and relevant content on the website that keeps the targeted customer engaged and convinced. You get the visitors who are serious and potential buyers for your brand and business.
Better conversion rate
Our SEO helps your business website rank at better position in search results. Therefore, each visit from the interested visitor has high potential to be turned in to sales.
Cost-effective
SEO is less expensive than other modes of advertisement. PETSAAL TECHNOLOGIES boosts up the rank of website and builds the brand values that deliver the revenue benefits years after years to come. With SEO, even small statups and small business are well known in market due to their search enigines results.
Credibility
At PETSAAL TECHNOLOGIES, we have in-house team of content writers who empower each word that you post at your business website and social media platforms. Our SEO content writers make the visitors feel that they are cared by the brand; so, they spend more time on your website. More time spent on a website by a potential buyer means better chances of making a purchase.
Engagement of potential buyers
Our SEO strategies, to rank your business website on low volume, medium volume and high volume keywords on search engine so that the potential buyer can search from long tail or tail keywords. And our regular articles posting and interaction with customer through website content and articles increases the number of engagement of potential buyers to your business website.
Brand awareness
SEO increase brand awareness, our affordable seo cheap packages are not only gives you ranking one first page but also brand awareness Brand reputation is the significant contributory factor in the business performance. Awareness to brand and loyalty for a brand deliver for long-term.
90% more Clicks Than through PPC
Yes, it is true. If you want to improve your website ranking, you need more numbers of quality clicks. Organic SEO delivers 90% more clicks than those you get through PPC at same amount.
SEO results are measurable
At PETSAAL TECHNOLOGIES, our SEO experts use advanced tools to track the outcome of each activity. Generating and sharing monthly report, we keep you informed about the gains from the investment you do for hiring our dedicated SEO specialists.
Engle eye on competitors' activity
Most the battles are won by knowing the opponent's activities. Same is the case in strategic SEO. As being the trustworthy clients' friendly SEO company, At PETSAAL TECHNOLOGIES, we don't believe in volume of SEO activities but we emphasize on the quality SEO activities with a reason. We track the activities of your close competitors and plan the activities accordingly to get the benefits earlier than them. It can be long tail or short tail keywords depending on the strategy we are using.
An edge to small businesses
May yours be a small business unit, retail business, startups, retail eCommerce store or service provider SEO gives to an online presence and some solid traffic of potential users. Our SEO packages add a competitive edge to your online presence regardless of your business size.
Helps you to expand the market
At PETSAAL TECHNOLGOIES, our SEO packages helps you to break the boundaries for marketing. Our affordable SEO cheap packages include activities that represent your business at all the prominent online spaces including social media, discussion forums and networking platforms to draw the attention of potential buyers at global marketplace.
There are many other SEO benefits that we assure to deliver through our affordable SEO cheap packages. Each SEO package is designed with commitment to deliver the results within a time frame. We don't believe in making big claims instead, we believe in proven deliverance. Yes, you know 'how we are performing' because we share Google analytics report at set period and rank your brand, business or startup on all kind of keywords.
After you choose our Affordable SEO cheap package
There are many basic steps on what is included in our packages.
Google Analytics setup and configuration
Google Search Console (GSC) setup
Conversion tracking setup
Keyword research
Advanced keyword research
Full website SEO audit
On-page optimization
HTML Code optimization
Content optimization
Website speed optimization
Off-page optimization | Link building
The search for new opportunities
New content creation
Monitoring and adjustment
Position monitoring
Google Analytics setup and configuration
At PETSAAL TECHNOLGOIES, we will create Google Analytics account and integrate it with your business website and perform a proper complete configurations.
Google Search Console (GSC) setup
You will provide or give access us to Google Search Console property. If it's not setup properly yet we will do it in a proper way, we will finish that with integration to Google Analytics account.
Conversion tracking setup
At PETSAAL TECHNOLOGIES, we will integrate conversion tracking or Ecommerce into Google Analytics account. This tool will allow to measure how many leads, calls or sales online you generate.
Keyword research
Our affordable SEO cheap packages have basic keyword research included in the offer. We will perform the research and consult with you about specific keywords that you will choose to rank for.
Advanced keyword research
An advanced keyword research is a combination of 7 different methods of research and multiple SEO tools usage to find every possible keyword and its variation possible. Keywords are grouped by meaning, intent or category and presented to a client for consideration. We do consult the client on the results and help matching the best keywords for the business in terms of ROI.
Full website SEO audit
Before we proceed to any on-page or off-page optimization task, our SEO team performs a full website audit using minimum 3 SEO audit tools including SEMRush, SerpStat Audit and Website Auditor for On-page SEO and gtmetrix.com and webpagespeed.org for a technical SEO audit.
Depending on the complexity of a project and its tasks, we might use more tools to make sure that none of the important ranking factors was missed.
We are absolutely transparent in every step, starting SEO audit and going further with all projects tasks. After we complete your project evaluation we will create a list of all task that will be handled either by our team of you developers team.
As a client, you get full access to that SEO tasks' list.
On-page optimization
At PETSAAL TECHNOLOGIES, We strongly believe that proper On-page optimization is the foundation of all future SEO tasks. Without strong On-page SEO any other steps are almost worthless. In this step we make sure that all the website's pages are according to the SEO requirements such as Meta Title, Meta Description, Headings, Focus Keywords etc.
We identify all the tasks that need to be done and make a list for our technical SEO and developers team. As mentioned earlier, we strongly believe in full transparency of every step that needs to be taken to get the result. You, as our client, get an online access to that list, where you will be able to monitor the progress.
HTML Code optimization
HTML code optimization goes hand in hand with on-page SEO. If your CMS is WordPress our team will make all necessary changes in house. If you are using any CMS that is not in our list, we can work with your developer. We have a solid and fully transparent process of working with a client's developers team where every party knows all tasks that has to be fulfilled and their statuses.
Content optimization
We evaluate your current content and evaluate it whether it needs to be improved, removed of left alone. Depending on the number of pages and keywords that need to be ranked we will check what content is preferred by Google and make suggestions accordingly.
After we have a get a confirmation from you that the content may be redone according to our recommendations we will start optimizing the content of the pages that we agreed upon. During this step we will check your website for possible keyword cannibalization issues.
Website speed optimization
Since website speed is officially recognized by Google as a ranking factor, our team will make its best to get the best possible page speed results for your website if that is one of the content management systems that we work with.
We have in house team of SEO trained back-end and front-end developers that know how to get the best page loading speed. Depending on various factors, including design and a budget, our team can reduce the webpage weight and optimize the code for best performance. The final score and speed will depend on such factors as
a) Theme or template that is used
b) Number of scripts that are loaded
c) Number of video and images that are used
d) Number and type of widgets that are used
Off-page optimization | Link building
When on-page SEO is done, we proceed to off-page SEO. We do recognize that backlinks are one of the most important ranking factors. Off-page SEO which consists of the major steps that will be covered.
Every link building campaign we launch we do start with current link building audit. After that, we move to the next step, which is backlinks intersect.
We check TOP 10, TOP 15 or TOP 20 competitors (depending on a budget) backlink profiles and compare it against our client's backlink profile. In this step, we identify where the main competitors that are ranking well are getting the links from and our client does not have.
Guarantee terms:
| | |
| --- | --- |
| 1 | The website should not be down during 5 months tenure. |
| 2 | The client will not do any URL change without prior notice via email. |
| 3 | Meta tags or other SEO aspects should not be removed from the website (whether automatically or manually). |
| 4 | The client will grant us full access to the site to do proper optimization. If not able to provide access then the client will be liable to do suggested on-page changes. |
| 5 | Payment needs to done timely. We give a buffer time of 7 days after sending an invoice. |
| 6 | Contents in a basic package will be written by a Pakistani writer. In higher packages, contents will be written by USA writer. |
| 7 | Web page contents (contents which will be used on landing pages) will be provided by the client-side. |
| 8 | All the keywords will be keywords phrases (minimum words 3-4 in each keyword). Two terms keywords are not optimized in these packages. For two terms keywords, there will be different costs as per the requirement of the client.) |
Affordable SEO Cheap Packages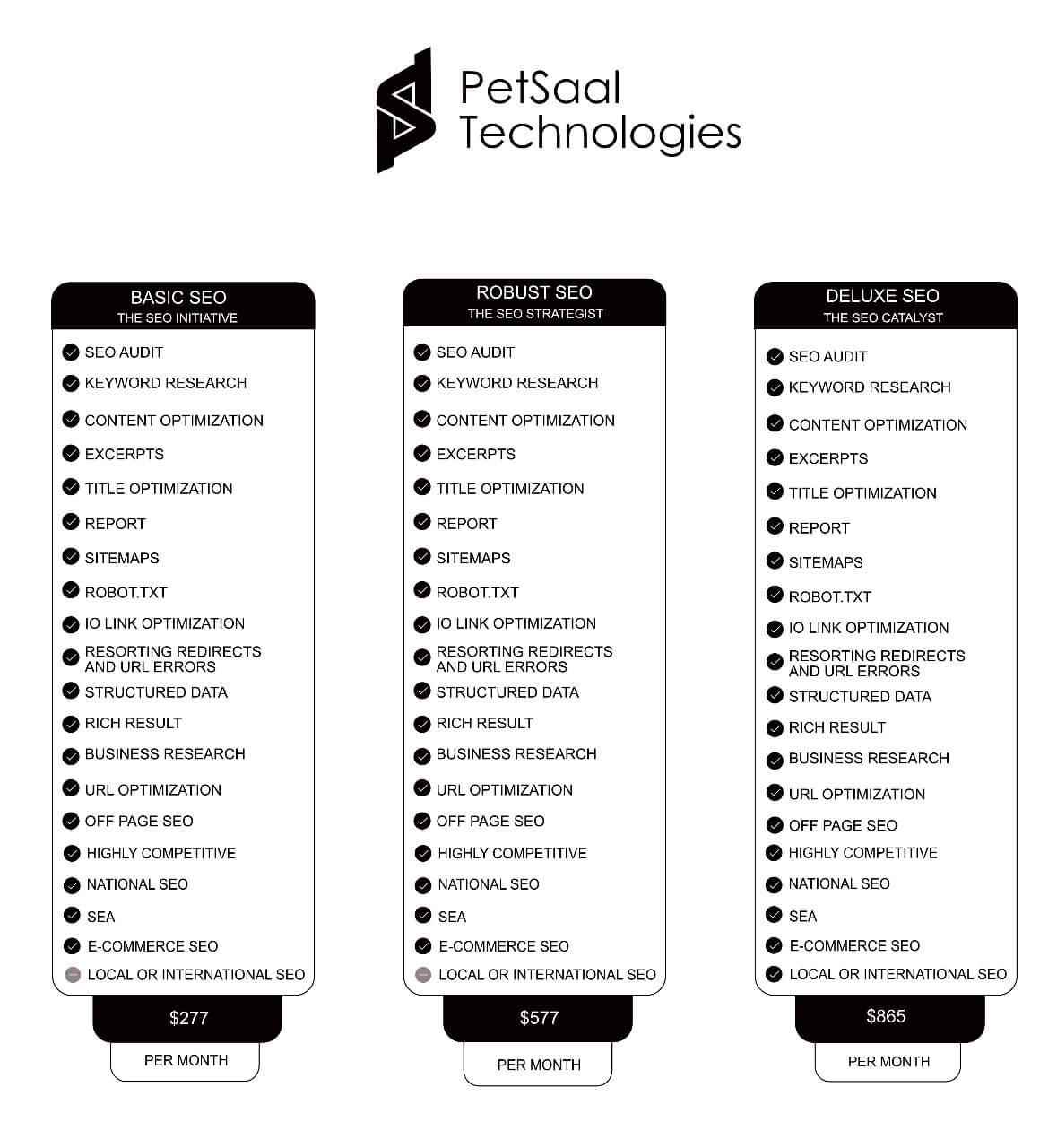 Struggling to decide which makes more sense for your business? Set up a call with us and we'll point you in the right direction ? and help you to choose one of our affordable SEO cheap packages.
Affordable SEO Cheap Packages Frequently Asked Questions about SEO [SEO FAQ]
Nowadays, it seems like everyone is talking about SEO and how important to your business. But what exactly is "SEO" and why does it matter? We get it, nobody wants to ask questions like this and have someone scoff in their face.
Fortunately, PETSAAL TECHNOLOGIES is here to help. We've taken all of the SEO questions that you've been hesitant to ask and given detailed responses to each. Yes, we've also included all of those annoying buzzwords. Don't worry, we'll explain what those buzzwords mean so you can drop them in front of the most advanced SEOs and seem like a genius.
Without further ado, here are the answers to our favorite SEO FAQs.
What does SEO stand for?
Do I Really Need SEO?
How Does SEO Work?
How long does SEO take?
What is the purpose of the links?
So Can I Just Buy a Whole Bunch of Backlinks?
What is organic content and how does it work?
How Do I Improve My Website's Authority?
How Do I Improve My Website's Relevancy?
Do I Need to Hire Someone to Do SEO for Me?
What Parts of SEO Should I Focus on First?
What is the ROI of SEO?
How has SEO evolved?
What should your SEO roadmap look like?
What are some of the most significant SEO updates?
Why can't I just buy ads and skip SEO?
How do you report on SEO?
What should I know when it comes to organic keyword research?
What can SEO do for me tomorrow, next week, or next month?
I Used to Get Twice as Many Visitors from Google. What Happened?
What does SEO stand for?
SEO stands for Search Engine Optimization, but what exactly does that mean? SEO is focused on bringing in website traffic through search result rankings organically (naturally), without paying for the traffic through ads. It's important to develop a strong SEO strategy because of the main source for website traffic searches. In fact, Backlinko states that "60% of all traffic on the web starts with a Google search". The main goal behind incorporating SEO in your marketing strategy is to increase the number of quality visitors to a website through search result rankings while keeping up with the algorithm changes and updates of Google.
Do I Really Need SEO?
yes, yes you do. Search engines are a discovery tool, meaning that many of these website visitors are discovering your website for the first time. As more and more people discover your website from search engines, you'll see each other traffic channel (email, social media, etc.) increase as well. In other words, as this part of your pie gets bigger, the rest of your pie will get bigger as well.
How Does SEO Work?
SEO is all about helping Google to better understand your website, while also increasing your authority so you start appearing for the search terms that are most valuable to your business.
Search engines look at 3 primary factors when trying to understand all of the websites in their index: authority, relevancy, and crawlability. We'll skip crawlability to keep things simple. Crawlability gets more into the technical side of SEO, and ain't nobody got time for that.
Authority is a measure of how reputable your website is in the eyes of Google and other search engines.
Relevancy helps Google to understand what your website is about so it can send the right people to your website. In other words, Relevancy is all about making that 50% of your pie that comes from search engines taste better. Nobody wants a lot of bad pie, so as your pie gets bigger, it becomes more and more important to focus on relevancy.
How long does SEO take?
When looking at any marketing deliverable or strategy, anyone buying on for service is always wondering how long it will take to see results. It's important to remember and express to clients in the beginning that SEO is a long term investment, and can eventually be your biggest traffic driver if you give it the time it deserves. SEO requires ongoing attention and is definitely not a one-time thing.
Your SEO strategy takes time, planning, and readjusting to achieve and maintain search rankings, ROI, and overall traffic growth. Whether you're redesigning your site to be more SEO friendly or your updating your target keywords, each and every change you make can affect your SEO efforts by showing quantifiable results.
What is the purpose of links?
Link building for SEO can be one of the harder parts of the job. Basically, you are searching the internet for other websites to link to your site in an effort to build referral traffic and establish authority. Even though this is a straight forward strategy you don't want just any links, you want relevant and quality links that shows Google you are the authority on a certain topic.
Let's use an example to talk about link building. Say you're writing a blog for a real estate brand and the subject is "newest trends in the housing market". It's important to use both internal (links to other pages on your site) and external (links to other sites on the same industry topic) links. After this blog is published and gains some traction, now is the time to ignite your link building strategy. Find other similar blogs on the topic at hand and start reaching out and presenting your piece of content as a valuable blog on the subject. Once more blogs and websites are sharing and linking to your piece of content, Google can then better understand who has the authority.
So Can I Just Buy a Whole Bunch of Backlinks?
Long story short: NO.
We know that all of those Fiverr deals offering you 50 backlinks for $5 are tempting, but they're not worth it. Buying links goes against Google's policies and will destroy your search rankings if you get caught.
If Google does catch you buying backlinks, you'll see your search rankings plummet. From there, you'll need to remove those links to your site and submit a reconsideration request for Google to re-analyze your site.
Instead, focus on creating exceptional content and run link building campaigns focused on getting relevant bloggers to link to your content.
What is organic content and how does it work?
When it comes to content, there are two general types. There is content with the purpose of putting readers into the funnel and then there's broad content. Now let's break it down.
Content such as product pages, long-form content, and white papers is content with a specific purpose in mind. You want readers to understand what your business is about, so they can continue moving down the buyer funnel to eventually purchase what you're selling. This is what the client wants to hear. They want a clear plan for how content creation will make them money and how it will affect their ROI. This type of content is a necessary factor for SEO, but all in all, specific product content just doesn't get shared. Google must be factored into the strategy.
On the other hand, there is broad content, better known as blogging. This is the stuff that the audience interacts with and the type of writing that helps Google better understand where your site should be placed in SERP. When creating content, whether that's an infographic to help boost SEO, a blog, or even a video, you should adjust your mindset to position yourself within the reader's point of view.
What will grab the reader's attention? What type of content will make my website more searchable? What are the questions that the readers need answers to? What type of content is most likely to get shared? Once you find what your audience is looking for, it's time to infuse your writing with SEO, specifically keyword research (which we will dive into a little later).
Ultimate purpose of content: Blogging allows your website to rank higher in Google SERPs, therefore increasing your visibility and traffic by reaching your target audience during the discovery phase in an overall effort to increase your business revenue.
Struggling to decide which makes more sense for your business? Set up a call with us and we'll point you in the right direction ? and help you to choose one of our affordable SEO cheap packages.
How Do I Improve My Website's Authority?
The best way to improve your website's authority is to get other authoritative websites in your industry to link to your site. Google looks at the other websites that link back to you as the strongest signal that your website is trustworthy. Google looks at how many backlinks you have and how trustworthy these websites are.
Think quality over quantity here. One link from the New York Times will help your website rankings significantly more than a link from 50 brand new blogs.
How Do I Improve My Website's Relevancy?
Start by identifying the words and phrases that your customers are searching for online, and update your website copy to better reflect those words and phrases. If you sell pizzas, make it easy for Google to understand that your website is about pizza.
Do I Need to Hire Someone to Do SEO for Me?
Similar to almost any other profession, you can do it yourself, but will always see the best results when you bring in experts to help. You can do your business' taxes on your own, but choose to hire a professional because you know that they will be worth the investment.
What Parts of SEO Should I Focus on First?
Our best advice here would be to talk to an SEO expert to get their opinion. That being said, a good general rule of thumb is to check your website's domain authority using the Moz toolbar. In most cases, if your site's authority is less than 40, you should focus on the Authority side of SEO (i.e. getting more reputable websites to link to you). If your site's authority is greater than 70, focus on the Relevancy side of SEO (setting up a proper SEO foundation).
If your site falls somewhere in the middle, then do a search for 5 of your biggest competitors, and compare your domain authority to theirs. If your domain authority is higher than theirs, then it's probably best to focus on Relevancy. If your domain authority is lower than theirs, then it's probably best to focus on Authority.
Struggling to decide which makes more sense for your business? Set up a call with us and we'll point you in the right direction ? and help you to choose one of our affordable SEO cheap packages.
What is the ROI of SEO?
The ROI of SEO varies from one industry to the next. How valuable would it be to your business to come up as the top recommendation when your customers are searching for you?
Let's look at an example. 320 people search for the exact phrase "event venue Denver" every month (not to mention those who search for slight variants, like "event venues Denver").
Being the first result on Google would bring ~110 people to your website every month who were actively searching for event venues in Denver, many of whom had never heard of your brand before. Assuming 0.5% of those people booked an event venue JUST ONCE, this one search term would bring you 6-7 new customers every year.
How has SEO evolved?
There's no doubt that the SEO role has changed over time. From Google putting a stop to spam and black hat techniques to the preferred user device shift. But what exactly is the main focus now?
Let's start with devices. In the past, SEO experts were focused on optimizing for desktop specifically because this is where the majority of traffic was coming from. However, mobile has quickly taken first place when it comes to the primary device.
Let's talk about technical SEO. Technical SEO has always been there, and always will be an important part of the strategy. However, as the years have passed technical SEO has become much more of a requirement rather than an option. Not only are you keeping up with Google's algorithms and tracking the changes, but you're also keeping up with new factors that always come into play (page speed, mobile responsiveness, indexing, and more).
In addition to these changes that we've seen in SEO, we have also seen additional changes when it comes to planning for SEO such as, a crackdown on link schemes, a rise in relevant organic content, the many changes made to SERP via Google Algorithms, and keyword research to focus more on placement rather than density.
What should your SEO roadmap look like?
When bringing on a new client, you might be wondering where to start and how to start crafting their roadmap to success, because an SEO strategy is necessary when it comes to generating organic and qualified leads. Before embarking on a new project, it's important to think through your process and put a strategy in play.
Below is a quick step-by-step guide that we use at PETSAAL TECHNOLOGIES to create a high-level SEO game plan.

Research & Discovery
SEO: Industry analysis, keyword research & mapping, and competitor analysis.
Content: Content audit and share of voice audit.
GOAL: Understand who your target audience is, what the competitors are doing, and what keywords are driving the conversation and dominating search result real estate. Here you can create a shared objective for both SEO and content.
Strategy
SEO+Content: Quarterly strategy & roadmap. Here is where you take your research and discovery and put it into tangible tasks. Does the site need to undergo technical SEO changes? What does the current content on the site look like? Is local SEO in affect? What does the current link landscape look like?
GOAL: Align cross-channel support of strategy to combine SEO and content efforts.
Execution
SEO: Technical audit, on-page optimization, link opportunities, and consulting. This is where your strategy and planning come to life!
Content: Content creation and publishing, along with promotions and influencer activations (if you have the budget for this).
GOAL: Enhance performance through collaboration and necessary deliverables.
Measurement
SEO+Content: Monthly reporting and insights. This is where you can measure what you've strategically done for your client, understand what has done well, and decide what could still use improvements.
GOAL: Cross-channel performance and strategic recommendations.
What are some of the most significant SEO updates?
Let's face it, Google is always switching things up and tweaking their algorithm. Because of this, the main role of an SEO's job is to keep up and be aware of these changes. Throughout the history of algorithm updates, most of them go unnoticed and don't require your full attention. However, there are some major algorithmic updates that you should always be aware of as an SEO expert:
Poor-Quality Content
Keyword Stuffing
Spam and Low-Quality Links
Over Optimization
Contextual, Conversational, and Semantic Search
Local Listings
Google Mobile-Friendly Pages
Machine Learning, Artificial Intelligence
Local Search Results
Affiliate Heavy, Ad Centered, and Thin Content
Struggling to decide which makes more sense for your business? Set up a call with us and we'll point you in the right direction ? and help you to choose one of our affordable SEO cheap packages.
Why can't I just buy ads and skip SEO?
A common question asked by potential clients during the sales process is why they can't just buy ads and forget about SEO. The answer, SEO and PPC work better when used together. Even though these verticals are addressed through different strategies, the efforts complement each other. You can increase your visibility and exposure, keyword research (paid and organic) can be shared, best performing ad copy can help when it comes to creating an organic content strategy, and much more when it comes to department collaboration.
In addition to working well together, SEO and PPC both play important roles in the conversion funnel on their own while still working together. SEO creates awareness and interest through content at the top of the funnel, where as PPC tends to drive users to the bottom of the funnel to take action.
How do you report on SEO?
There are a variety of ways you can report on this digital marketing vertical. Since SEO is more of a long term investment, your insights can range from organic traffic to keyword ranking performance. Depending on where you're tracking, Google Analytics tends to be the mothership of data pulling platforms.
In addition to Google Analytics, there's Google Search Console, SEM Rush, Google My Business, and other helpful platforms. When it comes to the most intriguing data, our team tends to report on the following:
Total Organic Traffic and Year-over-Year (YoY) changes
Organic Conversion Rates and Goal Competitions
Time on Site and Bounce Rates
Local SEO Performance (if applicable)
Landing Page Performance
Blog Performance
Keyword Ranking Performance
Insights, Next Steps, and Recommendations
What should I know when it comes to organic keyword research?
The power of organic keyword research lies in how well you know your target market and how they are searching for your brand. Put yourself in the mind of the searcher. What specific words are they using? What questions do they ask? What device are they using for the majority of searches? Are you seeing any trends?
After you know who the target audience is, it's time to dive into your research. Start discovering specific long-tail and short-tail keywords and how they are being used in the content. Understand how often those specific terms are used in a search to make sure there is enough search volume to make an impact. Then you can start strategizing and categorizing your keyword research to implement on your site, within your content.
What can SEO do for me tomorrow, next week, or next month?
In short, SEO puts your brand on the map. Remembering that SEO is a long term investment and it doesn't happen overnight is key. When it comes to organic digital marketing tactics, you might not think you need it, but there are many benefits that prove you should.
Organic search is most often the primary source of website traffic. This type of search is a huge factor when it comes to visibility, making it a critical component of the buyer funnel and ultimately encouraging users to engage or convert. Incorporating SEO into your marketing strategy not only helps organically, but it also helps other efforts included in your digital marketing game plan.
f you're still not convinced, there are more benefits that support the organic efforts:
Increase in Site Visibility
Improve User Experience
Better Rankings in Search
Increase in Overall Website Traffic, Engagement, and Conversions
Increase Brand Credibility
Dominate the Audience Discovery Phase
I Used to Get Twice as Many Visitors from Google. What Happened?
You probably got hit with an algorithm penalty.
Google updates its search algorithm every day to provide a better experience for searchers. Part of these updates consists of penalizing websites that go against Google's rules. There are two major algorithm penalties that could be hurting your search rankings: Panda and Penguin.
Panda is a series of updates to Google's search algorithm focused on eliminating "thin" content from the internet. Think articles that scraped content from other sites, or short articles that are 100-200 words.
Penguin is a series of updates to Google's algorithm aimed at eliminating web-spam from search engines. Some classic tactics that could get a site penalized under these updates would be keyword stuffing, paying other websites to link back to you, or getting links from a lot of low-quality websites.
Fortunately, your website can recover. Tell us a little about yourself and we'll help you identify exactly what happened to your site.
Struggling to decide which makes more sense for your business? Set up a call with us and we'll point you in the right direction ? and help you to choose one of our affordable SEO cheap packages.
SEO can and will make a noticeable impact as a long term strategy. As the market evolves, so should your SEO tactics. The more time, effort, and budget you put into your SEO strategy, the longer your site will be a worthy contender in the industry.
We offer our affordable SEO cheap packages in these countries as follows.
SEO Services in Afghanistan
SEO Services in Albania
SEO Services in Algeria
SEO Services in Andorra
SEO Services in Angola
SEO Services in Antigua and Barbuda
SEO Services in Argentina
SEO Services in Armenia
SEO Services in Australia
SEO Services in Austria
SEO Services in Azerbaijan
SEO Services in the Bahamas
SEO Services in Bahrain
SEO Services in Bangladesh
SEO Services in Barbados
SEO Services in Belgium
SEO Services in Belarus
SEO Services in Belize
SEO Services in Bhutan
SEO Services in Benin
SEO Services in Bolivia (Plurinational State of)
SEO Services in Bosnia and Herzegovina
SEO Services in Botswana
SEO Services in Brazil
SEO Services in Brunei Darussalam
SEO Services in Bulgaria
SEO Services in Burkina Faso
SEO Services in Burundi
SEO Services in Cabo Verde
SEO Services in Cambodia
SEO Services in Cameroon
SEO Services in Canada
SEO Services in the Central African Republic
SEO Services in Cad
SEO Services in Chile
SEO Services in China
SEO Services in Colombia
SEO Services in Comoros
SEO Services in Congo
SEO Services in the Cook Islands
SEO Services in Costa Rica
SEO Services in Croatia
SEO Services in Cuba
SEO Services in Cyprus
SEO Services in Côte d'Ivoire
SEO Services in Czechia
SEO Services in the Democratic People's Republic of Korea
SEO Services in the Democratic Republic of the Congo
Affordable SEO Cheap Packages Services in Denmark
SEO Services in Djibouti
SEO Services in Dominica
SEO Services in the Dominican Republic
SEO Services in Ecuador
SEO Services in Egypt
SEO Services in Equatorial Guinea
SEO Services in El Salvador
SEO Services in Eritrea
SEO Services in Estonia
SEO Services in Eswatini
SEO Services in Ethiopia
SEO Services in Faroe Islands
SEO Services in Finland
SEO Services in Fiji
SEO Services in France
SEO Services in Gabon
SEO Services in the Gambia
SEO Services in Georgia
SEO Services in Ghana
SEO Services in Germany
SEO Services in Greece
SEO Services in Grenada
SEO Services in Guatemala
SEO Services in Guinea-Bissau
SEO Services in Guinea
SEO Services in Guyana
SEO Services in Haiti
SEO Services in Hungary
SEO Services in Honduras
SEO Services in Iceland
SEO Services in India
SEO Services in Indonesia
SEO Services in Iran (the Islamic Republic of)
SEO Services in Iraq
SEO Services in Ireland
SEO Services in Guinea
SEO Services in Israel
SEO Services in Italy
SEO Services in Jamaica
SEO Services in Japan
SEO Services in Jordan
SEO Services in Kazakhstan
SEO Services in Kenya
SEO Services in Kiribati
SEO Services in Kuwait
SEO Services in Kyrgyzstan
SEO Services in Lao People's Democratic Republic
SEO Services in Latvia
SEO Services in Lebanon
SEO Services in Lesotho
SEO Services in Liberia
SEO Services in Libya
SEO Services in Lithuania
SEO Services in Luxembourg
SEO Services in Madagascar
SEO Services in Malawi
SEO Services in Malaysia
SEO Services in the Maldives
SEO Services in Mali
SEO Services in Malta
SEO Services in the Marshall Islands
SEO Services in Mauritania
SEO Services in Mauritius
SEO Services in Mexico
SEO Services in Micronesia (the Federated States of)
SEO Services in Monaco
SEO Services in Mongolia
SEO Services in Montenegro
SEO Services in Mozambique
SEO Services in Morocco
SEO Services in Myanmar
SEO Services in Namibia
SEO Services in Nepal
SEO Services in Nauru
SEO Services in the Netherlands
SEO Services in New Zealand
SEO Services in Nicaragua
SEO Services in Niger
SEO Services in Nigeria
SEO Services in Niue
SEO Services in North Macedonia
SEO Services in Norway
SEO Services in Oman
SEO Services in Pakistan
SEO Services in Palau
SEO Services in Panama
SEO Services in Papua New Guinea
SEO Services in Paraguay
SEO Services in Peru
SEO Services in the Philippines
SEO Services in Poland
SEO Services in Portugal
SEO Services in Qatar
SEO Services in the Republic of Korea
SEO Services in the Republic of Moldova
SEO Services in Romania
SEO Services in Russian Federation
SEO Services in Rwanda
SEO Services in Saint Kitts and Nevis
SEO Services in Saint Lucia
SEO Services in Saint Vincent and the Grenadines
SEO Services in Samoa
SEO Services in San Marino
SEO Services in Sao Tome and Principe
SEO Services in Saudi Arabia
SEO Services in Senegal
SEO Services in Serbia
SEO Services in Seychelles
SEO Services in Sierra Leone
SEO Services in Singapore
SEO Services in Slovenia
SEO Services in the Solomon Islands
SEO Services in Somalia
SEO Services in South Africa
SEO Services in South Sudan
SEO Services in Spain
SEO Services in Sri Lanka
SEO Services in Sudan
SEO Services in Suriname
SEO Services in Sweden
SEO Services in Switzerland
SEO Services in the Syrian Arab Republic
SEO Services in Tajikistan
SEO Services in Thailand
SEO Services in Timor-Leste
SEO Services in Togo
SEO Services in Tokelau
SEO Services in Tonga
SEO Services in Trinidad and Tobago
SEO Services in Tunisia
SEO Services in Turkey
SEO Services in Turkmenistan
SEO Services in Tuvalu
SEO Services in Uganda
SEO Services in Ukraine
SEO Services in The United Arab Emirates
SEO Services in The United Kingdom of Great Britain and Northern Ireland
SEO Services in The United Republic of Tanzania
SEO Services in The United States of America USA
SEO Services in Uruguay
SEO Services in Uzbekistan
SEO Services in Venezuela (The Bolivarian Republic of)
SEO Services in Viet Nam
SEO Services in Yemen
SEO Services in Zambia
SEO Services in Zimbabwe
SEO Services in Vanuatu
Struggling to decide which makes more sense for your business? Set up a call with us and we'll point you in the right direction ? and help you to choose one of our affordable SEO cheap packages.